Details

Created:

09 April 2022
Click here for donation appeal and donation form for his wife Ms Alarcon - also a former English teacher of WYK - and his son Joshua
Dear Wahyanites,
As you may notice that our admirable teacher Henry Yuen (also an alumnus of WYK 94) had passed away several months ago. As his family had spent significant amount during his battle of cancer, we, a group of WYK alumni of Class-94, would like to appeal for donation to support his family. His wife, who was also an ex-teacher at WYK, is raising her son in primary school with limited financial resources. They are planning to relocate to the UK this summer, according to Henry's wishes.
"Men for and with others" was something every Wahyanite strives for. It is definitely not an overstatement to say that Henry is the perfect role model. Everyone who knows Henry would tell you that he has determined to provide, give and supply abundantly and generously, and yet, he has demanded nothing in return, throughout his short but meaningful journey on earth.
Details

Created:

03 April 2022
Click the image above to replay the talk.
Details

Created:

30 March 2022
Link
to story - https://www.cny.org/stories/pope-meets-hong-kong-bishop-records-messages-to-chinese-catholics,23632
教宗同款福字下載 -
https://drive.google.com/drive/mobile/folders/10xPXIEfqH9D9caSFeO-oT4OcsHw37jbe?usp=sharing
Details

Created:

16 March 2022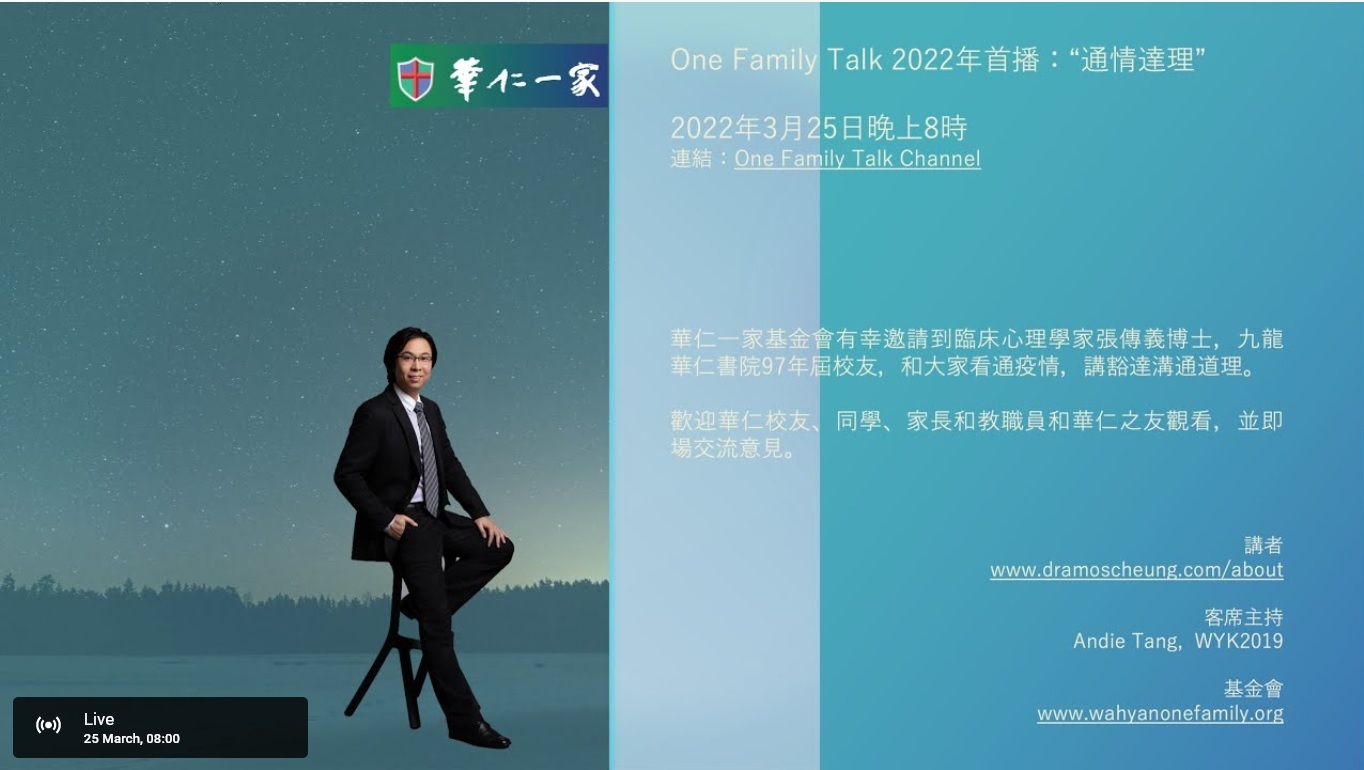 疫情嚴峻,基金會謹請各位校友,同學,家長,教職員,神父及友好做足防疫措施,保重身體,祝願所有人身心健康,和順平安。我們有幸邀請到臨床心理學家張傳義博士、九龍華仁書院97年屆校友,和大家看通疫情,講豁達溝通道理。
One Family Talk 2022年首播: "通情達理"
2022年3月25日香港時間晚上八時 8AM EDT
歡迎華仁校友,同學、家長和教職員和華仁之友觀看,並即場交流意見。請屆時收看及廣傳,謝謝
Details

Created:

30 January 2022
School Supervisor Fr Clement Tsui, SJ and Principal Warren Chung's Lunar New Year Messages
Details

Created:

28 January 2022
天主教香港教區 周守仁主教【疫情下多走一步共祝福】香港進入第五波疫情,周守仁主教呼籲信徒除善盡公民責任,做好防疫措施,亦因着信仰而多走一步,關心受疫情影響的人士,並捐款支持慈善機構。農曆新年將至,周守仁主教祝福大家:如虎添翼,克勝疫情;龍馬精神,天賜鴻福!