Details

Created:

07 December 2019
Our Wino group holds periodic gatherings. If you are interested in joining the group, let us know through this link. To see more pictures of Wino #61, follow this link.
Details

Created:

17 November 2019
Tim Kwan ('67) is an award recipient of Chinese Canadian Legend; alumni David Wong, Sandy Ng and Jeff Mah were at the Gala celebrating with Tim.
Details

Created:

10 November 2019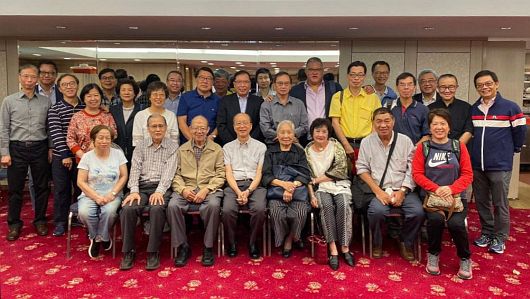 Class of '71 - 9th Annual Snake Soup Dinner Gathering in HK, November 9, 2019. Click here to see more pictures. Read the article from Edmond Wong ('71).
Details

Created:

06 November 2019
Click here to read an article by 余晃英 ('61) on remembering Mr. Ho.
Details

Created:

03 November 2019
The pictures show some of the WYK alumni who attended Cathay Ball 2019 hosted by Mon Sheong Foundation on Saturday November 2 at Metro Convention Centre South Building. The Foundation is a charity organization dedicated to the promotion of Chinese culture, heritage, language, and philosophy by caring for the elderly, encouraging the young, and providing programs and services to meet the needs of our communities. A number of WYKAAO members and spouses have been volunteering their time and expertise at the organization for many years.
Details

Created:

01 November 2019
WYPSA Luncheon in Hong Kong at the Chinese Club
From left, Chris Chan ('96) Vice Chairman WYKPSA, Michael Au Chairman WYIR, Stephen Lam ('96), Chairman WYKPSA, Joe Wong ('67), Kelvin Wong ('20) WYK Student Ambassador 2019, Simon Cheng WYHKPSA Past President, Ronnie Kung ('86) WYKPSA Past Chairman