Details

Created:

31 August 2021
When we brace ourselves for the school year of 2021-22, we are delighted to welcome aboard our new School Supervisor, Fr. Clement TSUI, S.J. In the Jesuit spirit of MAGIS, Fr. TSUI shall accompany us in our quest to become Men of Human Excellence and Men for and with Others – march on and see all things new in Christ. Please Click the images below to read the 2-page message.
Details

Created:

31 August 2021
今天是我在兩華最後一天當校監。所以今天回兩校除了簽支票、文件和開會外,就是派我一生人第一次的「散水餅」。
雖然理性上知道我本身就是個「華仁仔」,但感性上不免有不捨和切離的傷感。不竟和華仁結緣了大半生,當校監也有14年了。
在此我祝願華仁這個大家庭繼續為教育、為香港、國家和世界發光發熱。在這煙雨濛濛的時代繼續作一個「燈塔」的角色。培育我們的華仁仔成為更優秀的「長頸鹿」,更成為「為人和與人同行的有識之士」。
祝新校監、校長和依納爵教育工作者百尺竿頭,更進大步!主祐華仁!
註:散水餅的 emoji 是港華老師的設計。散水餅的包裝設計是我們的教育心理學家的傑作。
Details

Created:

31 August 2021

Click the image above to read the newsletter.
Details

Created:

14 August 2021
On Saturday August 7, WYKAAO Board of Directors visited a new long-term care centre in Stouffville operated by Mon Sheong Foundation, a charity organization where a number of WYKAAO members are volunteers.
Details

Created:

02 August 2021
Clcik the image above to read the complete article.
Details

Created:

24 July 2021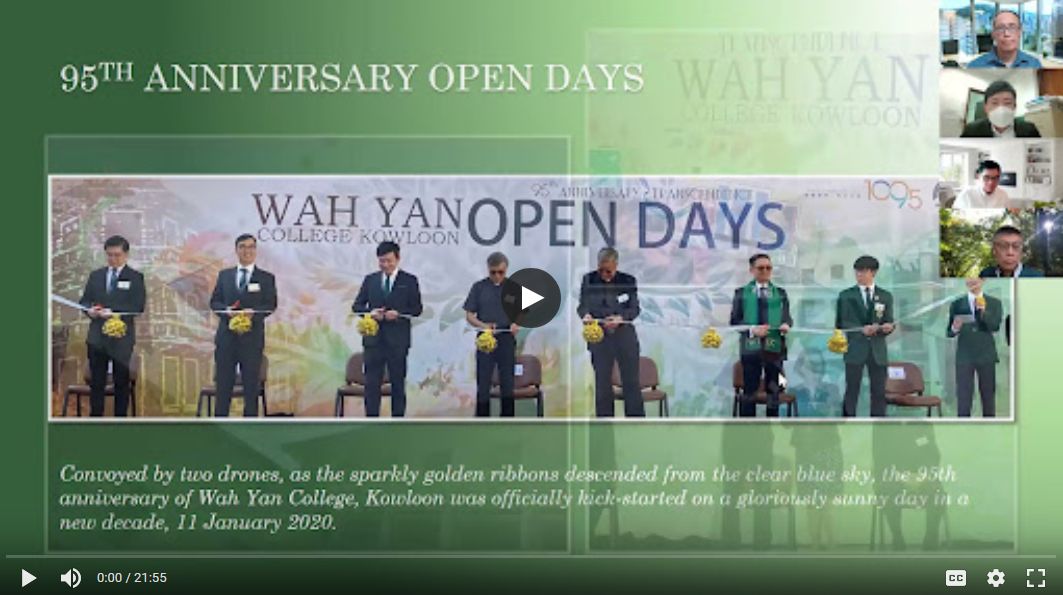 Principal Warren Chung presented the latest updates on WYK in a virtual alumni meeting with Ontario chapters. Click the image to see the video presentation.
Details

Created:

18 July 2021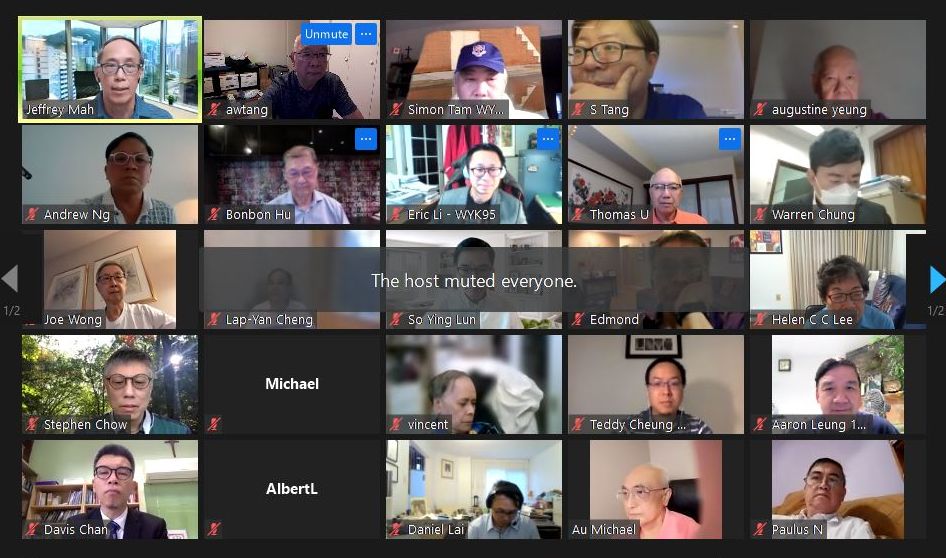 Virtual Wah Yan Alumni Gathering, jointly hosted by WYHK and WYK alumni associations in Ontario, was successfully held on Friday July 16, 2021 (started at 8pm Eastern Time). Through the coordination by Michael Au (WYHK '69), four distinguished guests from Hong Kong attended, namely Fr. Stephen Chow, Dr. Ying-Lun So, Dr. Davis Chan (Principal of WYHK) and Mr. Warren Chung (Principal of WYK). Over 50 alumni and ex-teachers participated. Latest updates of the colleges were shared by the two principals following the inspiring messages from Fr. Chow and Dr. So.
The meeting, which lasted for two hours, also touched on ideas on how to enhance the communication among overseas chapters and connections with our mother schools, with an objective to offer advice/assistance to Wahyanites planning to come to Canada for continuing studies or starting their careers.
Details

Created:

17 June 2021
The two Wah Yan College Alumni Associations in Ontario have jointly organized a virtual alumni gathering with guests from Hong Kong. Our honoured guests include Fr. Stephen Chow (Supervisor of both Wah Yan colleges, Bishop-Elect of Hong Kong), the two Wah Yan principals (Mr. Warren Chung and Mr. Davis Chan) and Dr. Ying-Lun So (Assistant Supervisor, WYHK)
- Date: Friday, July 16
- Time: 8pm (Toronto time)
This will be an informal get-together of about 1.5 hours in duration. We will hear first-hand latest updates about our mother school and invite ideas of maintaining connections among overseas alumni chapters. This email address is being protected from spambots. You need JavaScript enabled to view it. and let us know if you would like to join. A link to join the meeting will be sent to the registrants when we get closer to the event date.