Details

Created:

10 November 2009
Joseph Chan Kwok-Hung (1967), President of Fairchild Television, was one of the winter Olympic flame torch bearers in Vancouver. We are looking forward to seeing him in town to officiate the Miss Chinese Toronto Pageant 2009 later this month.
Details

Created:

04 November 2009
Father Coghlan has written a beautiful letter to National Geographic Magazine,
in which WYK, WYHK and Ricci Hall are mentioned.

Click here to enjoy it.

['I enjoy Magical Moments very much, for the breadth of experience, the depth of love of nature, and the English,' remarked SL Kong (53)]
Details

Created:

03 November 2009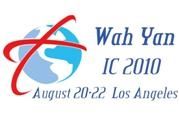 The conference will last for 3 days (August 20-22, Friday to Sunday) and will be held at the San Gabriel Hilton Hotel. The daily rate at the Hilton is about $130.Accommodations at other hotels (both more and less expensive) as additional options to the San Gabriel Hilton are being developed.

The main event will consist of one full day on (Saturday plus the Sunday morning) of gatherings and speeches by keynote speakers. The dinner on Saturday will be a Gala event with entertainment.
Details

Created:

02 November 2009

Miss Wong Kit Kwan (Mrs Ma) passed away on Oct 31.
Requiem Mass (presided by Fr. Stephen Chow, S.J.) was held on Friday, 27 November, at 8:00pm at Hong Kong Funeral Parlour and Final Commendation (presided by Fr. A. Deignan, S.J.) on Saturday, 28 November, at 9:00am. The cortege proceeded to Cape Collinson Crematoria.
Mrs Ma taught at Wah Yan College Kowloon from 1945~78. As she was the only Chinese teacher at the entrance level, P6 and F1, she had taught all earlier graduates at their very early formative years at school.
A 1961 Form 5 graduate remembers her as:
| | | |
| --- | --- | --- |
| 最憶Meen See黃 | 循循解文義 | 黃潔君女士, P. 6D班主任, 後嫁與馬玉麟先生 |
| 常見交費遲 | 婉轉問家貧 | 通常每月第一日交學費, 我常遲交。馬玉麟先生教國文。 |
Please view other messages here. View album of Mrs. Ma.

Mr. Tam writes from HK.
Details

Created:

26 October 2009
Members from Class' 60 are planning a 50th-anniversary reunion in Hong Kong in November 2010. Please visit the following site http://sites.google.com/site/wyk1960/ for more information or e-mail This email address is being protected from spambots. You need JavaScript enabled to view it. for further enquiry.
Details

Created:

25 October 2009
4 Wahyanites from 4 cities, Ottawa-Vancouver-Hong Kong-Wahington D.C., recently had their fun in translating

菩萨蛮 (唐)李白 (701~762)


平林漠漠烟如织
寒山一带伤心碧
暝色入高楼
有人楼上愁
玉阶空伫立
宿鸟归飞急
何处是归程
长亭连短亭

Click here to enjoy their work. Share yours through Contact Us in the Main Menu.

"One could be surprised of the simplicity of some of Li's poems, quiet and beautiful."~ SL Kong.

There are many more translations of beautiful poems of major poets. Enjoy.
Details

Created:

24 October 2009
Wah Yan 90/85 Anniversaries Special.

Wah Yan 90/85 Anniversaries Press Release.

Wah Yan 90/85 Anniversaries Celebration Programmes.
Wah Yan 90/85 Anniversaries Visual Arts Exhibition.
Wah Yan 90/85 Anniversaries Wah Yan Encore.
Details

Created:

18 October 2009
From Mr. Laurence Tam in HK:
"Margaret and I arrived at WYK playground just before 9 a.m. The place was already full of people, though not so crowded as the first one held 2 years ago. The color for this walkaton is yellow. All participants put on a yellow T shirt provided by the organizer. Yellow is a striking color, especially under the sun, as it was a gorgeous sunny day. The whole playground seemed to be flittering with shimmering yellow lights as the crowd of people moved around. I had the luck of meeting many of my old friends in the crowds at WYK playground, walking on the way to Tsimshatsui Star Ferry, in the ferry, walking from Wanchai Ferry Pier, through the Central Plaza and up the hill to Wah Yan Hong Kong. The closing ceremony was held at 1 p.m. at the playground of WYHK. That was the second Wah Yan Walkaton I experienced." ........Click here to see more pictures.
Details

Created:

15 October 2009
Our October newsletter is now online. Please click
here to read.

Contents -

- AGM 2009
- AGM _WYK 85th Anniversary Dinner
- Director Nomination
- AGM 2008 Minutes Summary
- Activities 2008~2009
- Scholastic Achievement Award
- The President Speaks
- Cradle Exhibits
- Philip Lee, Lieutenant Governor of Manitoba
- Winery Tour
- Networking Dinner
- Terry Fox Run
- Visitors from Afar
- Dinner for Fr. Chow
- Milestones: Father O'Neill, S.J., Louis Lau, Mrs. Annie Ko
- SAA Recipients Updates
- SAA _AGM forms

Details

Created:

12 October 2009
"This year marks the 30th anniversary of the restoration of diplomatic ties between America and China, which proved a dramatic turning point in the cold war" ---The Economist, October 24th~30th 2009.

This is a timely article by Kong Shiu-Loon (1953).

Click here to enjoy it.