Details

Created:

13 December 2011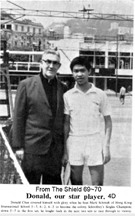 先獻上歪詩一首:
華仁師友尚難忘   憑網寄情傳各方   信是有緣今未盡   四十週年聚一堂
機緣
這次見面,勾起我對那段同學少年日子的回憶.
四十年了, 驀然回首,輕舟已過萬重山.  我跟各位有緣.  想當年,如果不是FINNERAN神父熱愛網球,我怎樣能夠認識你們這班精英。FINNERAN在南華早報看到我,叫一就讀中五的華仁仔到南華會找我來華仁讀書,  同學姓蕭. 也在南華學打球.   我把消息告訴父親,父親笑說,你點有本事讀華仁? 
Details

Created:

05 December 2011
Thanks to your fervent support, Fr. Deignan has been chosen as one of the 10 awardees of the Hong Kong Loving Hearts Campaign 2011 organized by ATV.

The Award Ceremony was held at ATV's studio in Tai Po Industrial Estate on Sunday, 11 December, 2011 from 7:30 p.m. to 10:00 p.m.
Details

Created:

28 November 2011
The 3-day programme ended with a gala dinner held on Sunday, November 13, in the school hall.  Attending were classmates with their wives, many from overseas, and invited staff.  Michael Chan, Martin Lee and Bernard Wong came from Toronto.  Invited guests were Fr Mallin, Fr Naylor, Fr Zee, Mr Wong Chin Wah, Mr Laurence Tam, Mr Anthony Ho, Principal Dr John Tan and Monty Fong from Wah Yan One Family.
The following links shows the events:
- Class of 1961 Reunion
- '61 Grads 50th Reunion WahYan Mass & Metropole Lunch
- '61 Grads 50th Reunion Kowloon Cricket Club
- WYK Class of 1961 50th Anniversary Reunion
Details

Created:

25 November 2011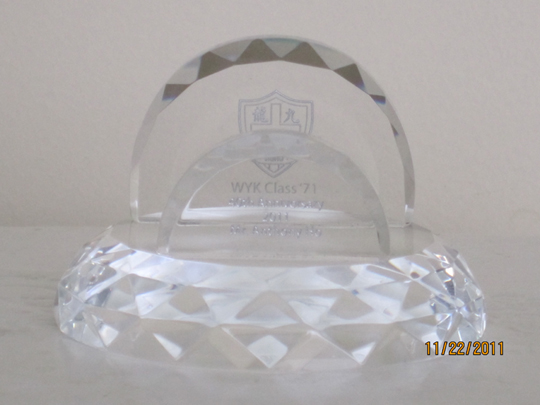 The Organizing Committee members had worked for months to make the event a great success. The 2-day programme was enjoyed by classmates in Hong Kong and from Australia, U.S., England and Singapore.  Representing Canada is Anthony Lee of Concord, Ontario.  Mr. Ho was the invited guest from Toronto.
The first day, November 05, 2011, started with Home Coming Tour followedd by lunch at school.  The Celebration Dinner at Chariot Club in Central was attended by over 80 people.  An excellent video produced by Cora, daughter of David Ho Siu Hang, was shown to start an evening to remember.
The Venture Trip Macau the next day was another enjoyable event.
Please click the elegant Mobile Phone Stand for photos.
Details

Created:

20 November 2011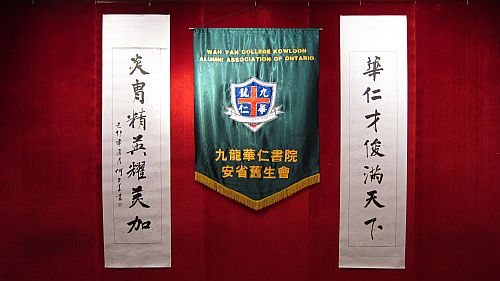 Click the above to see more pictures.
Details

Created:

16 November 2011
"Greetings! Many of you might have heard about our plan to establish a Jesuit university in Hong Kong. Let me take this opportunity to share with you on some latest developments.
We have appointed 3 senior administrators pro tempore (President, Provost, and VP Finance & Administration) to assist us on planning, secured 4 Founding Partners (College of the Holy Cross, Fordham University, Georgetown University and Santa Clara University) to provide us with strong institutional support and another 17 Jesuit universities in Europe, United States, South America, Japan, and India that are willing to collaborate with us. We are now forming a truly international Board of Trustees comprising Jesuits leading these institutions............ Click here for more information.
Details

Created:

13 November 2011
Chinese Canadian Legend recognizes and honours Chinese Canadians who have made significant contributions to the community and Canada through outstanding achievements in their field. Award Gala Co-chair Ms. Alexandra Ngan says that the award recipients' struggles against obstacles and their ultimate success, their wisdom and their virtues provide a source of inspiration and for new and old immigrants alike, not just for the Chinese community but also mainstream society.
The Award Gala was successfully held on Saturday, Nov 12 at the Sheraton Parkway Toronto North Hotel. The Honourable Philip Lee ('60), Lieutenant Govornor of Manitoba, was one of the award presenters for the evening. Our president among other WYKAAO members also attended and showed our support. Click here to see the pictures.
Details

Created:

06 November 2011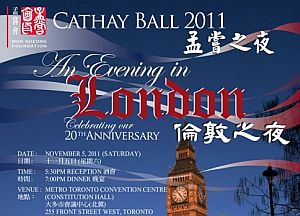 第二十屆「孟嘗之夜」籌款盛宴於十一月五日(星期六)晚上假大多市會議中心北翼舉行,今年大會除慶祝舉辦二十週年以外,並以「倫敦之夜」為主題,當晚節目豐富緊凑,並有逾三百件精品供競投的大型慈善拍賣及緊張刺激的即場拍賣;還有限量版大抽獎。「孟嘗之夜」籌得之善款將用來支持孟嘗會長期護理中心及發展社區服務。
本會有數成員參與是晚盛會,請在此點擊觀看當晚照片。
Details

Created:

26 October 2011
To our members and those who are on our mailing list:
If you wonder why you did not receive our newsletters or periodic updates on our association, it is probably because your e-mail address in our database is not up to date. If you have changed your e-mail address or would like to update your preferred e-mail address, please click here to let us know.
Thank you for your attention.
Details

Created:

11 October 2011
Please click the following link for the whole story.