Details

Created:

13 May 2011
Damien Ku Chi Chung (古志眾) passed away on May 11 in Hong Kong.  This sad news came as a great shock to all his Wah Yan friends.  It was on May 5 that they received an email from him, saying that he realized only 17 days ago he had cancer originated from the thymus gland spreading to liver and bones and that he had received four radiation therapies, waiting for chemotherapy treatment.  A devout Catholic, he placed his trust in God and asked them for prayers.
Damien spent 8 years in Wah Yan Kowloon from Primary 6 in 1956 to Upper Six Science in 1963 and went on to Hong Kong University to complete an engineering degree.  Always cheerful and friendly, he could be singled out in all his class photos with his smiling face.  View his album here.
May he rest in peace.  The family appreciates all the good wishes and prayers and there is no need to send any flowers and gifts.
Read letter from Mrs. Phyllis Ku and family.
Details

Created:

09 May 2011
Memories of Father Frank Doyle by Father Naylor and Father Zee and poem What is Death from Homily delivered by Fr Mark Raper SJ at Mass celebrating the life of Francis George Doyle SJ  (4 October 1931 ~ 17 March 2011) on 22 March 2011, at St Ignatius Oratory, Loyola House of Studies, Manila.
Click here to read the whole article.
Details

Created:

08 May 2011
Click here to read the lines and the English rendition.
Details

Created:

22 April 2011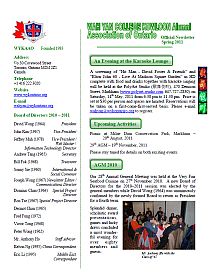 Click here to read the latest newsletter.
Content -
1) An Evening at the Karaoke Lounge
2) Upcoming Activities
3) AGM 2010
4) Valentine Ball 2011
5) Spring Banquet 2011
6) Early Bird Specials
7) Fr. Frank Doyle - R.I.P.
Details

Created:

08 April 2011
"Much pain has been caused over the in-take issue, all with the best intentions.
Though not directly addressed to many, I hope all who love WY, will respond and pray for the healing and work for the future in unity of heart, mind and action.  A.M.D.G.
I'm copying to HK Jesuits, WYK SMC, my beloved Form 2 (1966), and a few on WYOFF, in Vancouver, Anthony Ho in Toronto..... I think Fr. Deignan won't mind if Monty (WYOFF) and Tom Ho (WYKPSA) ... could circulate this letter around more alumni.  We are living the Passion and hopefully the Resurrection of Christ through these events.
Many thanks for all the love for WY expressed in different ways throughout the world."  -- Fr. George Zee
Fr. Deignan' letter to WYK staff will be sent to our members.
Details

Created:

30 March 2011
[1.4.2011 SCMP] Wah Yan College drops out of class reduction scheme
 
Elaine Yau Updated on Apr 01, 2011
Elite school Wah Yan College has pulled out of the government's class-cutting scheme after wealthy alumni threatened to cut donations.
Details

Created:

17 March 2011
"Mar 17 (11:36 pm)
Dear Friends of Fr. Doyle,
 I have just been informed by a Jesuit scholastic in Manila that our beloved Fr. Francis Doyle had just returned to God! This is indeed a very saddening turn of event. But we trust in the merciful God who must have prepared a much better place for his son, Francis, to be with Him eternally! Let us pray for Fr. Doyle's eternal peace and consolation for his loved ones! In prayers
March 21
If you would like to view the photos of Fr. Doyle's funeral oratory, please visit the following link:

https://picasaweb.google.com/thiridaw/FrankDoyleSJ?feat=directlink

Fr. George Zee has gone to Manila representing the Jesuits in HK to attend the Funeral which is to take place tomorrow." - Fr. Stephen Chow
Details

Created:

13 March 2011
Rose, wife of John Ho (65), left Toronto on March 1 to tour Japan and was at Nikko when the disastrous quake hit Japan on March 11.  A seasoned traveller, she writes on her experience and observation during these difficult days.  Her reports from Nikko, Tokyo and Narita Airport are in our Blog site.
Details

Created:

27 February 2011
Our 12th annual Spring Banquet was successfully held on 26th Februray with 9 tables of members and guests.  Pictures can now be viewed here.
Notes from the featured talk can be downloaded here.
The happy evening ended with a short video of the 2011 Homecoming Concert at WYK.
Details

Created:

23 February 2011
February 23, 2011
Wah Yan Kowloon School Management Committee (WYK SMC 九華校董會) Statement and a Statement by Fr Deignan, can be viewed here.  (Please note there are 3 pages in the document.)
何謂「自願減班」? Please see a two-part video prepared by RTHK 鏗鏘集.
| | |
| --- | --- |
| Part I | Part II |
| | |