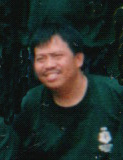 Jim Fung, R.I.P.
We received the sad news that Jim Fung passed away on June 7 after years of battle with cancer.
Jim was an active member of the Class of 73.  He enjoyed soccer, the most popular sport at school, and continued playing Sunday soccer with wahyanites in Toronto before his illness.  A solid centre defender of the soccer team, he helped WYKAAO to win the Anniversary Cup in 1999.
We ask you to keep him in your prayers.
Service arrangements are as follows:
June 10, 2010 (Thursday)
Funeral Service
Time : 10:00 a.m.
Place : Logos Baptist Church (York Region)
            75 Oxford Street, Richmond Hill, Ontario  
Cremation Service
Time :   12:00 noon
Place :   Elgin Mills Cemetery
1571 Elgin Mills Road East at 12:00 noon ( South East of Leslie Street and Elgin Mills Road).
June 12, 2010 (Saturday)
Grave side Burial Service
Time : 11:00 a.m.
Place :  Highland Hills Memorial Garden, (Eternity Garden)
12492 Woodbine Avenue, Gormley. (North West of Stouffville Road and Woodbine Avenue)