Details

Created:

12 December 2011
(Mar 4, 2012) From Victor Ng, International Convener, Wah Yan College Alumni US Eastern Chapter:
Pre-registration can be done online at:
http://wahyanic.org/online-form/
The link to the conference website is:
http://www.WAHYANIC.org
---
(March 3, 2012) Invitation to Wah Yan International Conference 2012 (August 3, 4,5) in New York City from Peter Lau - Cochairman of IC-2012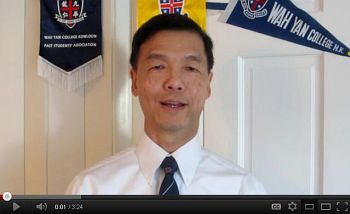 ---
---
(Mar 1, 2012) From the WYIC2012 Organizing Committee:
"The following is a link to booking at a discounted rate at the New York Marriott Downtown, the official WYIC2012 hotel:
https://resweb.passkey.com/Resweb.do?mode=welcome_ei_new&eventID=5414442
We will provide bus service from this hotel to the conference site about 2.5 miles away.  On Sunday, the last day of the conference, all activities - mass, conference and brunch, will be held at this hotel location.
Please secure your hotel room as early as possible as there are only a limited number of rooms available at the discounted rate.  Should you need assistance or have questions about the conference, please contact us through the WYIC2012 Web site at:
http://www.WahYanIC.org/contact-us/
We look forward to seeing you in New York."
---
From Victor Ng, International Convenor, WYCAA Eastern US Chapter,
"Since the INC announced the selection of the Eastern U.S. Chapter as the host of WYIC2012, the Organizing Committee, under the leadership of co-chairs Lap Yan Cheng and Peter Lau, has made a lot of progress in the preparation of the event.
Various functional groups and sub groups have been set up. These include: Conference Program, Editorial Board, Finance and Marketing, Gala Dinner, Local Hospitality, and Media Group.
WYIC2010 will last for 3 days - from Aug 3 to Aug 5 in 2012 (Friday to Sunday).
On Friday, we will have registration and a evening reception. The main conference program starts on Saturday. We will have Gala dinner in the evening. Sunday we will have a half day program including a morning mass. There will also be other non-conference activities including local sightseeing and activities for spouses.
The conference will be held at the Kimmel Center in New York University (a truly remarkable conference venue). Hotel accommodation will be at the Marriott Downtown (a beautiful hotel near the World Financial Center and the New World Trade Center site). The waterfront Battery Park, Wall Street are not too far way and can be explored on foot. There are subway stations nearby as well as ferries to New Jersey.
A theme for WYIC2012 has been chosen – "Men for Others" (click here). We expect to have the WYIC2012 web site up and running in a few weeks. You will be able to find more detailed info on the website."
---
WYIC2012 site is live!