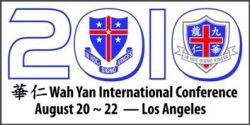 Mr. Francis Kong could not resist anymore. After listening to Mr. Wong Chin-wah singing Toselli's Seranade in Cantonese, and Mr. Wilson Hsueh's "One Day When We were Young", he demanded equal time and sang a Japanese song. Fr. Joseph Foley sat there bemused and expectant. I later found out from Mr. Anthony Ho that Father was waiting for someone to ask him to sing the theme song of "Foon Lok Kam Siu", the popular TVB evening program that topped the charts throughout the 1970's and 1980's.
To our eternal regret, no one did. The venue was the farewell dinner on board the Queen Mary in Long Beach. The event was the Wah Yan International Conference. The time was August, 2000. Fr. Foley passed away in Galway, Ireland in September, 2006, preceded by the death of Mr. Francis Kong in Hong Kong the previous December, and followed by that of Mr. Hsueh in Toronto in August, 2008.
We will be hosting the Wah Yan International Conference again next month. Much as we want to, we cannot present an encore of Kong, Hsueh, plus a challenge from Fr. Foley. And despite our sponsored invitations, Frs. Anthony Farren, James Smyth and retired teacher Yu Pun Leung are too weak to travel. But others have agreed to attend, including former Vice Principals Raymond Yu and Anthony Ho, and the Septuagenarian Wong Chin Wah himself, who plans to deliver a new composition.
We did not plan the impromptu soiree on board the Queen Mary ten years ago, but we have planned a two-and-a-half day program for you. You will get an update from the two principals and the school psychologist on Wah Yan since your graduation, the Lieut. Governor of Manitoba will give a keynote address on his personal sojourn from Wah Yan to the Governor's Mansion, a panel of three prominent alumni will discuss what Wah Yan have taught them and what they would like Wah Yan to teach future student cohorts, a gala dinner on Saturday evening, and a more informal dinner on Queen Mary on Sunday. In both, we will invite you to view "Wah Yan got talent" where current administrators, retired teachers and alumni will perform. You can see the conference program in our conference website.
We suspect that you probably will have just a good time inside the conference hall and in the streets of Los Angeles, where news are being made every day. Last summer, it was Michael Jackson and Farrah Fawcett, who died or was buried within walking distance from my office in Westwood. This week, it is Lindsay Lohan, and in between, Susan Bullock and Mel Gibson. And if you are lucky, you may actually stumble into Lam Ching Ha, who was in Beverly Hills last week.
We do not promise that you will get star-burned in August. But we do promise that we have designed a content-rich program, a setting where you will reconnect with teachers and classmates you have not met in ages, and three days that when you look back, will say, "I am glad I went".
James Tong (WYHK, 1958-59, 72-73,WYK 1959-1967)
IC2010 website: http://sites.google.com/a/wahyan.com/ic2010/home
Email us: This email address is being protected from spambots. You need JavaScript enabled to view it.