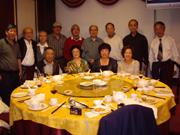 Some Cheetahs met in Toronto to attend the Chinese Canadian Legend (紅楓傳奇) Gala on Saturday, October 27, to witness their team-mate, Hon. Philip Lee, LG of Manitoba, giving the keynote speech.  The day before, they went to Stratford to see The Pirates of Penzance which they had performed at school more than 50 years ago. 
Class of 61, a year junior than the Cheetahs, had three members from three differeent cities in town: Michael Lee (Edmonton), Gabriel Lau (Winnipeg) and Philip Yu (Seattle).
As both groups know each other, our past President, Gus Yeung, arranged a dinner for both groups with their spouses and family on Thursday, October 25. 
Please click the image to view the album.
Enjoy the following 2 video clips by Gus:
Class of 1961 Toronto Dinner Oct 25, 2012
Cheetahs and Class of 1961 Dinner Oct 25, 2012