Details

Created:

10 May 2010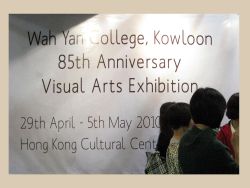 Reported by Mr Laurence Tam from Hong Kong ~ "On 1st May, Saturday, Wah Yan College, Kowloon 85th Anniversary Visual Arts Exhibition was opened as scheduled at the 4th floor Gallery of the Hong Kong Cultural Centre at Tsim Sha Tsui. (slide series)  I was invited to be one of the opening officiating guests together with Fr Deignan, Fr Chow, Principal Dr Tan, Mr Chiu Hay Kaw and a host of others.  The opening ceremony was attended by a large crowd.  Other than the staff, teachers, students (past and present), and guests, there were many parents of students and friends of Parents' Association of the College, as this Anniversary Exhibition was initiated and organized by the Parents Association of Wah Yan College Kowloon. The exhibition included not only paintings in a variety of media, but also drawing, Chinese and English calligraphy, poems, 2-D and 3-D design, costumes, photographs, ceramics, prints, posters, architectural model, installation and computer art.  The exhibition gallery was partitioned into 8 sections.  Works of the same nature were grouped together.
The exhibition fully demonstrated the rich variety of artistic creative activities performed by our Wahyanites.  Exhibitors included former and present teachers, staff and students as well as parents of students of the College.  Being one of the former teachers, I submitted two of my early ink paintings for the show (slides Nos. 010 and 012).  Also included are eight of the original ink paintings by 1972-1974 graduates selected from "The Cradle of New Chinese Ink Painting Movement" Exhibition (slide No. 003).  Several of the Cradle artists including Sam Choi, Yim Pak Kai, Wong Chi Kin, Bernard Lim and Fred Wong attended the opening ceremony.  Our great art admirer Timothy Poon (1969 graduate) took the opportunity to have a photo taken with Fred Wong by the side of Fred's masterpiece (slide No. 011).  The show gave me many happy surprises.  I believe not many of us are aware of the fact that some of the earlier teachers of Wah Yan College Kowloon were proficient creative artists also.  In this exhibition, visitors really enjoyed seeing some very fine works of art by them, in addition to those highly creative works by the younger Wah Yan artistic talents of today.
After a short speech by the organizer and prize presentation ceremony (slide No. 005)
That was the kind of occasion when you would meet a lot of people at the same time.  Especially when many of them I have not met for quite some years, I spent more time in conversation than viewing the exhibits at the opening ceremony.  So, I had to make a second visit to the exhibition on the last day of the show.  A lot of the photos on the exhibits were taken during this second visit of mine."