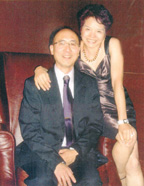 Eliza and Don Yau (65) married recently.  They were in town and attended a welcome dinner on June 24.  They brought along a Red and a White which paired nicely with a menu drawn up by Gus Yueng and Andrew Tang.  It was a very happy evening.
[Eliza and Don were at our 2008 AGM dinner held at the same restaurant.]
Click here for pictures taken by Andrew.