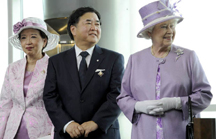 "I have had a few moments of excitement last week hosting the tour of Her Majesty in Manitoba. Attached please find a few photo shots when I received E II R at our new airport which was still under construction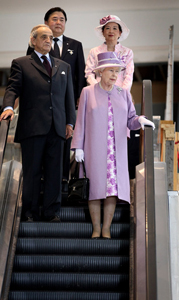 until September this year. My house was surrounded by securities during her stay at my residence. I did not comment on the English Soccer team in the World Cup when having a conversation with her. I was pleasantly surprised that when she made her speech which was 50% French; her French was very impressively accurate. She must have the genes of her great great great grandfather, Richard, the Lion Heart who was purportedly known to speak primarily French and very little English.
That was perhaps why his brother King John took the throne away from him. Please note that the picture displaying the real MAGNA CARTA from England (on loan to for display in Manitoba from the library of London) . Father O'Neil would be flabbergasted to observe that his one time History student would personally be the curator for Her Majesty repeating the story of the MAGNA CARTA in my official residence. The document was actually written in Latin for which I only remember "Mea Culpa, Mea Culpa, Mea maxima Culpa" as Fr. Toner told me to repeat three times in Mass. Philip Kam often complained that he pounded his chest so hard that he had to rub his swollen wound with medicine alcohol after Mass. Those were the good old days.
Another story perhaps another time." by Philip Lee
(Philip will be speaking at IC2010 in LA.)