Details

Created:

17 December 2013
 Pasta with Baby Clam Sauce 
Many people have claimed cooking is difficult. They have a lot of questions, a lot of doubts and a lot of insecurity about the method, timing, and the procedure combinations. Let us go for a little tour of what we need to do to create something that is nutritious and easy. 
Let us not follow the famous saying of Buster Keaton; "A brain is like an emergency brake; we have it but we seldom use it." A recipe is a dead thing. We are only interested in its components and proportion. Once the basic logical reasoning is acquired; we should be able to grow, to explore and add more to this base and let it flourish into something elaborate and beautiful. What is the worst that can happen after you created some dish; people ate it but they wanted to hang you? If they are not successful, you are home free and you can try again. If they are successful, you would not know the result. Either way, you win! 
We set our priority straight. Cooking is a creative process. We know the ingredients, we learn the process, and we can follow our imagination. Come with me on a little journey on cooking and you would be amazed at what you can achieve. 
The dish we want to create is pasta with baby clam sauce. This is a classical, simple but authentic Tuscan dish. The ingredients are few but the taste is light, refreshing and fulfilling. 
First, the ingredients: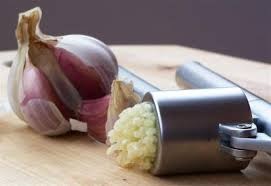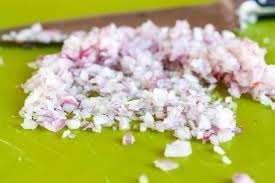 Olive oil – any kind of olive oil would do. You can choose the good extra virgin or even the ordinary vegetable oil ¼ cup = 2 oz.
1 cup = 8 oz (Do not be obsessed with the exact amount, it has little bearing on the taste of the sauce)
Garlic crushed – if you have a garlic crusher, it would help out but no need to dash out and get one. You can use the knife to chop up    the garlic and it would work fine.  
Onion, shallot, - cooking onion is fine, Spanish onion has a milder & Sweeter flavour and shallot has a sharper taste.
Canned baby clams – choose baby clams.
Baby clams are smaller and not as meaty but they are a lot softer and less chewy when cooked. You can always use live clams or even mussels but these shell fish are more difficult to manage since they can be overcooked easily.
Some red chilli flakes to give the dish some kick. Using diced chilli pepper would be an option too. It would brighten the dish up. 
White wine – any white wine would do. 
Pasta – spaghetti, linguini, rigatoni, penne, your choice (I have not tried using Chinese rice noodles yet, but there should be a possibility in there.) 
Procedure 
Heat pan, medium high heat.
Sweat onions till it is translucent (do not burn since you want the nice appearance).
Put garlic in the pan and sweat more (garlic goes in after because onion has more moisture and they can stand the heat better but garlic can get burn easy and appear black. This would not be appetizing.)
Drain baby clams and reserve the juice.
When the onion and garlic mixture is cooked, put the clam juice in with the mixture.
Put ½ cup of white wine into the sauce.
Turn down the heat and let the sauce simmer slowly to half its volume. 
When the sauce is done, finally, put the clam meat in to warm up.
Adjust the taste with salt and pepper. 
This making of the sauce should take 20/30 minutes, during this time, cook your noodles to al dante. You can drain the pasta; or you can just take the pasta and deposit in the sauce right away. The pasta would absorb the sauce and make it less watery. Put chopped up parsley on top of the finished pasta and enjoy.  Of course a nice dry Italian wine would help the atmosphere. A glowing fire place would not decrease the mood either. Don't burn down the house.
This is all plain and simple. Our imagination wants to play. So if you add some cream to the sauce, you will have this.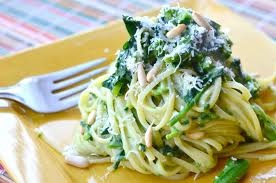 You can doll the dish up by adding a bit of spinich to the dish and top it with some fresh grated parmesan cheese or porcarino cheese and it would take on another appearance and another level. Cheese can be curled, grated, sliced and other wise to produce some lovely visual effect. 
You are a lot more adventurous than you think and there is not enough colour to the dish. You talk to yourself and say; "Self, what if I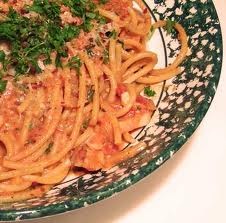 put some tomato paste to the sauce and give it colour?" and self says; "What a beautiful mind, I wish I can have your brain." So a little tomato paste goes into the sauce. (caution: tomato has a citrous flavour and you cannot add too much to this sauce since it would dilute the shellfish taste. Really, a little goes a long way.) and presto; this appears. 
Observe the choice of a dish with a floral rim? The faint rose colour of the pasta would compliment each other. There is a dish called marinara which have a better use of more vegetables and a sweeter tomato sauce. But that is a citrous base sauce, very different from this variation.
So you start with 1 simple process of making 1 dish and you can expand it to 3 different types of pasta for your enjoyment. This is live cooking. This is exploring the boundaries. This is cooking without recipe.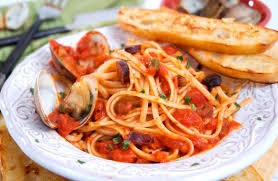 We have not delved into the big area of garnish and plating yet. But close your eyes and picture; you can put slices of lemon in a curvy design to the side of the dish, cucumber ribbon can go on top of the dish, you can curl up the pasta in a cylinder and top with bread crumbs and butter, there is no limitation to how you can present the dish. 
Let the dish take over.

Condiment and accompaniment would add more appetizing effect to the dish.
One step further, you can experiment with scallops and shrimps instead of clams. You can add saffron to the dish to jump up its flavour. An even more advent garde thought, add some anchovy to the clams. (Anchovy is a fish that can enhance the flavour since it is seafood and belong to the same category). From this on, you can change the sauce to a seafood medley sauce without difficulties; same process, different seafood mix. 
The variations are many and the results are exciting. Now, using the Nike slogan, "Just Do It". 
My first teacher in fengshui was doing the same thing with me. He gave me the basics and from there on, I explore and go back … and explore and bang my head against the wall and go back …. 
But of course, you must learn the basic skills so you would not mess up the whole kitchen and take a week to clean up after the meal. You have to learn the basic skills so you would not slice off your fingers and get the name of "six fingers".
People excel in their own right. They just did not find the niche yet. It will come. One last word, the pasta can be taken warm or cold. Now you should tell yourself; "I am on top of the world!" 
Let me know if you run into difficulties and we will soon answer.